Step into a pro shop or golf store and ask which type of golf ball flies the farthest and you likely will be shown to a very big display of balls and be told to take your pick. After all, in golf's unending pursuit of distance, which manufacturer would want to admit to making a ball which does not fly far? For most players, spin and control might be better, but distance likely sells golf balls.
Golfers' Swing Speeds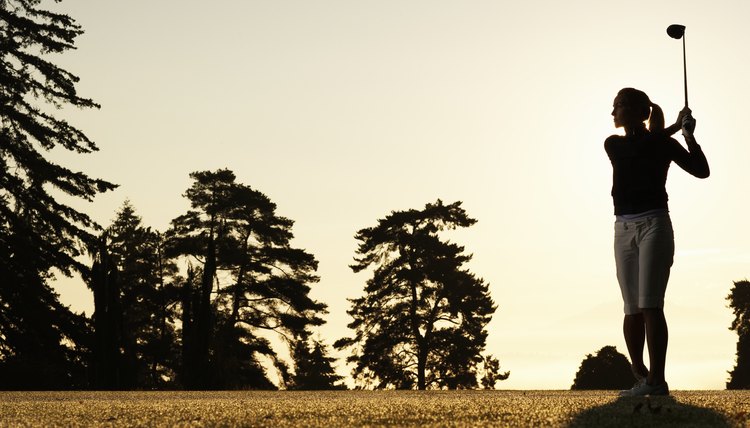 The average woman's slower swing speed would dictate a softer-core ball.
Golf ball manufacturers tailor their products to different speed swings. Upper-echelon players have a high swing speed, mid-range players another and women and senior men yet another swing speed. Matching the ball to the swing speed and club composition is crucial to finding the ball that flies the farthest for you. Golf ball fitting is now as important to some players as club fitting.
Balls Must Conform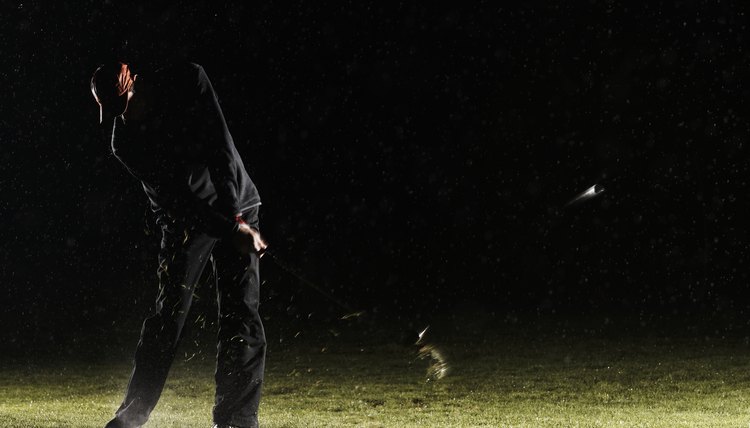 A skilled male golfer should be able to use a golf ball programmed for a higher swing speed.
To maintain a fair playing field, the United States Golf Association tests each golf ball that comes on the market. The ball must first conform to specifics of the Rules of Golf under Rule 5, Appendix III.
"We annually test on the order of 1,200 dozen balls," said John Spitzer, assistant technical director of the USGA. Players can find the ball best-suited for their swing speeds and clubs from the list of conforming balls.
The Right Ball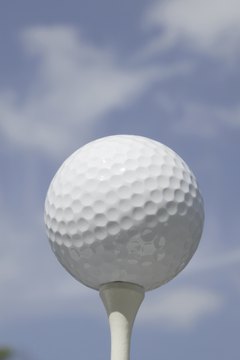 Matching a ball to a swing speed is paramount.
For the average woman and senior man, manufacturers make balls that compress with slight pressure, increasing ball speed and distance. For an average to better male player, the best ball is one he could hit long and straight yet with control around the greens. That means spin, says Rob Akins of Collierville, Tenn., a Golf Digest 50 Best Teacher.
Champions Tour professional Gary McCord says a low-spin ball is best for players who hit the ball high; conversely, a high-spin ball is for low-ball players.
Golf in space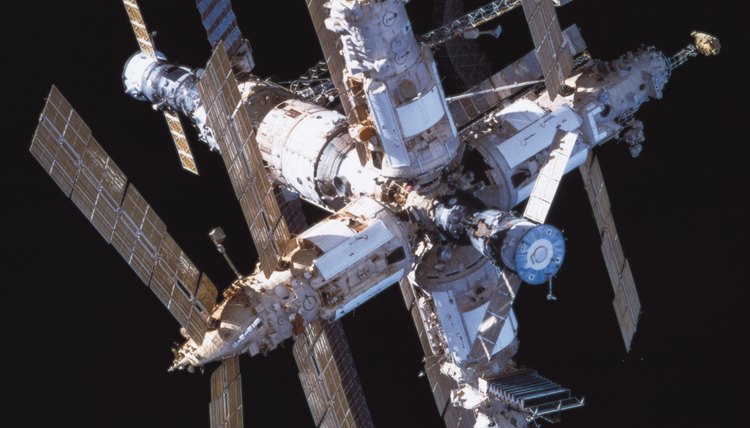 A golf ball hit from the International Space Station by a Russian cosmonaut may have traveled 1 million miles.
Outer space has played a role in golf and long-flying golf balls as well.
Astronaut Alan Shepherd smuggled a homemade 6-iron attached to a lunar sample scoop aboard Apollo 14 on a February 1971 flight to the moon and hit two shots from the surface. He chunked the first shot, but caught the second flush. No length could be determined, but the club now sits in the museum at Golf House, the USGA headquarters in Far Hills, N.J.
Russian cosmonaut Mikhail Tyurin, as part of a publicity stunt for Canadian golf club manufacturer Element 21, also with a six-iron, hit a shot one-handed during a spacewalk at the International Space Station on Nov. 23, 2006. NASA calculated the ball would go 1 million miles before disintegrating in Earth's atmosphere.
That's long.