The putter is one of the most personal clubs in golf. What is right for one golfer could be disastrous for another. Most golfers decide what type of putter they want to use based on "feel," which is about as subjective as it gets. However, "feel" is real and you need to putt with a club that feels good when you stand over the ball.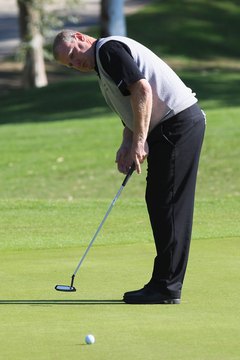 A traditional putter reaches up to the golfer's thighs.
Try a traditional putter. Traditional putters are typically 31 to 35 inches long. The sole of the putter should be flat on the ground when you hold it. If the toe is in the air, the putter may be too long for you. If the heel is in the air, the putter may be too short.
Choose a putter with alignment aids if you have trouble aiming. Such aids could include lines that form a "T" with the face of the putter or a couple of circles on the head of the putter that you line up with the ball.
Try a belly putter if you have trouble performing a slow, steady putting stroke. A belly putter is secured by the golfer's stomach. Instead of resting it in your hands, the end goes up to the stomach. You swing the club by drawing it back and bringing it forward while the end remains steadied by your stomach.
Choose a head with which you are comfortable. A blade putter has a rather thin head. A mallet head is bigger, typically with a rounded back. If the putter looks good to you, you'll have more confidence over the putt.
Don't let price determine whether your choice of a putter. You may find a great putter in a bin of used clubs for $15 or an inexpensive new putter for $50. On the other hand, investing $250 or more for a top-of-the-line putter is not a good idea if the putter is not comfortable to use. For you, the better putter is the one that is most comfortable.
Take three or four putters to a practice green so you can see how they feel. Most golf shops will allow customers to try out a club before buying it -- especially if you are a good customer. Some even have indoor putting areas.